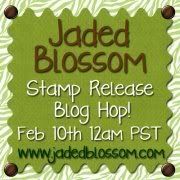 If you are coming from
Ricketts Cricuts
you are in the right place. If you found my post by accident- you do
NOT
want to miss this hop-so head on over to
Jaded Blossom
and start at the beginning!! Make sure to leave a comment on each blog so you can win the awesome blog candy
Jaded Blossom
is offering!!
I
LOVE
these stamps and I am SO excited that I was asked to be the very first guest designer at
Jaded Blossom
. This
Jaded Blossom
design team is AMAZING and super sweet on top of their creativity! I am so happy to have gotten the chance to create with them!!
These stamps are super fun and I made quite a few projects for this hop. (Well, it is my FIRST ONE EVER!) OK so I might have gone a little over board with the projects—but you will too when you get these stamps! They are so fun and so versatile! Let's get to it:
First up I have a treat holder that holds a "Reese's Peanut Butter Egg" The card stock is 4 inches wide and 10 inches long. I then scored the card stock at 1", 4 1/2" and 5 1/2".
I decorated the front with a polka dot paper and used the
Jaded Blossom
Petal stamp set "EASTER OWL". (isn't he cute!) I love this treat holder because you can alter it to fit any size candy you like. Take a look at this!
Next up we have some fun treats bags!! I used a cone bags from
Jaded Blossom
, some ribbon and added a tag on each. I missed matched the shapes on the tag (oval inside and scalloped circle outside) because I wanted the tags to look "egg" shaped. I used stamps from
Jaded Blossom
stamp set "EASTER TREATS" and "BUNNY POOP". The first cone bag is filled with "Cheese Nip" crackers and the other one it filled with "Bubble Yum" Easter egg gum balls!
The next project was really, really fun to make! I found these "PEEP" stickers at Hobby Lobby this past weekend and as soon as I saw them this card idea popped into my head! I traced the pink "PEEPS" by using another sticker in the set as a guide. The polka dot paper is from DCWV DOTS STRIPES AND PLAIDS stack. Then I put on some flowers and bling, added a ticket shape punch, added some ribbon from my stash and I used the
Jaded Blossom
stamp set "EASTER TREATS"!
Well here's your chance to tell me what you think of the projects I made AND enter to win some BLOG CANDY!!!!!!! On top of the prizes that
Jaded Blossom
is giving away on this release, I've decided to give away some ADDITIONAL blog candy!! To be eligible to win you must leave a comment (include an email or some way for me to tell you if you win) AND become a follower of my blog!
WHO WANTS TO WIN SOME NEW
JADED BLOSSOM
STAMPS!?! :0)
Leave a comment + become a follower of my blog = chance to win all 3 of the stamps used in the projects for my post today!!! How AWESOME is that?!
Did you think I forgot about the bunny poop I teased you with on my sneak? Nope!!! You get one more project! BUNNY POOP!!
I used the stamp set "BUNNY POOP" and a 1x8 bag from
Jaded Blossom
! Here is a close up of both sides of the bag topper!
I hope you had as much fun as I did on this stop of the Jaded Blossom Stamp Release Blog Hop--
Thanks for joining me on my very first blog hop!! :0)
Now jump over to my friend Candace at
Paper Crafts by Candace
to see her awesome project!
P.S. If you would like to 'like' my Facebook page there
might ;0) ;0)
be a prize give away at the end of the month to celebrate my guest designer spot here at
Jaded Blossom
!