Happy Wednesday everyone! I am excited to share with you a sneek from the new
Jaded Blossom
stamp release this coming Friday!!
Now if you follow me on Facebook you might have seen a version of this card. If you don't follow me on Facebook-use the link at the top of this page and hop on over there and like my FB page! I will be doing a give away at the end of the month!! :0)
The original card was cute-but plain. And missing something!
SO--I added some grass at the bottom,gave the bunny a super cute bow (and an eyeball!) and added a stamp from
Jaded Blossom's
new release and
waaa-laaa!
Much better! I made about 12 or so of these cards this winter- when I was feeling not so spring like-I think that the cards are all getting stamped to spruce them up!
Don't forget
Jaded Blossom
is releasing new stamps on Friday! Make sure not to miss this release hop! (It's my FIRST hop EVER!!) There will be blog candy!!!!!!!!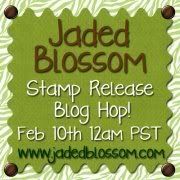 AND just because I am SO SUPER EXCITED to be the first ever guest designer for Jaded Blossom (and I can't keep a secret to save my life!) There might be some bunny poop ;0)